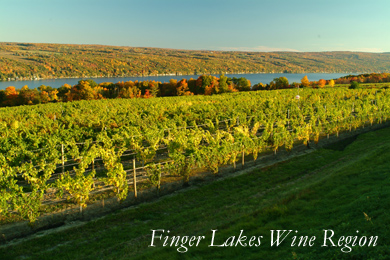 Hello and welcome to our second Summer Issue of The Better Drink. As we were planning this issue we found out that the great vintner and proponent of Finger Lakes wines Willy Frank had passed. In memory of him we combined the Feature and Interview into one for an extended conversation with his son and current head of Konstantin Frank Vinifera Wine Cellars and Chateau Frank, Fred Frank. Please read through this special feature to learn about the life of Willy Frank and his extraordinary family that was instrumental in bringing vinifera to the East. Please note the photo on this page of one of the Finger Lakes in New York. This is a land of great beauty, fine wines and some wonderful restaurants. The Finger Lakes are not far from anywhere on the East Coast and really parts of the Mid-West and Canada too. Even if you have only a few days take a drive up to the Finger Lakes and take in the beauty and try some of the fine sparkling wines there.
The Summer '06 is an amazing new issue with some great writing and art that I hope you all explore. The Arts & Sciences section looks into sulfites—why they are used and why we see a warning label for them on our wines. Cassandra H. Katsiaficas and Wayne Scheer share their Hello and Goodbye, respectively. Dave Brown takes us on an incredible journey that friends share around a table with wine and an open evening in "Under the Goldlight: true tales of drinking champagne". Suzie Sims-Fletcher gives us glimpse of her ability to find joy in anything in the Passion Forum section, and Rose Tolstoy opens the sketches the character of her mean sneaky bully in Life Before Ten.
Our fine arts section offers a variety of amazing paintings by the gallery's namesake Marcia Reed while La Vonne Schoneman tells a wonderful tale called "The Woman" in the Fiction section. Don't miss the poetry of Deborah M. Priestly and Robert Slattery. The movies, a proverbial escape, are reviewed by Anna Luciano, Fritz Voigt, and David Sirois. Additionally, I am pleased to introduce the newest section of the Better Drink called TRUE new non-fiction. This is an exciting new section that presents essays by contemporary writers. The first essay is by our staff writer J. Blake Gordon. And last, but the very opposite of least, visit Jennifer Barnick's In Search of the Champagne Life each week as she helps us navigate the tousled waters of life on route to the golden shores of the Champagne Life.
Please enjoy your tour around The Better Drink...and have a great summer season...hopefully with a glass of bubbly.
Dr. Timothy Smith